2016 - 2017 Coming of Age in the Print World
Our members raised the bar this year with two very successful print exhibitions. The first was made possible by the generosity or Chester Ng and the Image Makers who gave up their space at Mundo's Cafe in Monterey to let Padre Trails show its work. Many thanks to Chester and IM. The Mundo's exhibit involved twenty-six pieces by twenty participating members. The show actually consisted of two back-to-back exhibits, December 4, 2016 through January 14, 2017 and January 15 through February 25, 2017. The gallery space at Mundo's is casual and relaxed and provided a wonderful practice round for members to refine their skills in printing, framing and presentation of their work on a public stage.
The second show, the largest print exhibition in the Club's history, opened at the Walter Lee Avery Gallery in Seaside on May 1, 2017 and ran through June 30, 2017. Central Coast Style: The Constructed Environment consisted of 123 pieces; sixty-three themed prints and sixty un-themed miniatures.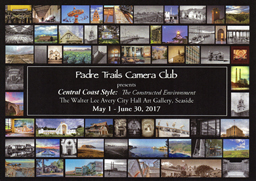 Our Artists' Reception on May 12th drew well over 100 people who enjoyed our art, the savory and sweet munchies provided by Wild Thyme of Marina and the soulful jazz melodies of flautist, Kenny Stahl.
What a year for prints!