Twenty members hit the streets of San Juan Bautista on a clear and warm Sunday morning, May 17, 2009. Some arrived as early as 5:30AM! What we won't do for a potentially winning shot. Most of our outings of this type are just for the fun of it, to be with other members in the field and learn the techniques and equipment choices of others in the club. The trip to San Juan Bautista, however, was the one competitive trip sheduled during the year. By competitive, we mean that unlike the just-for-fun trips, this trip had a specific list of subjects, twelve to be exact, that challenged the participating members to find and capture in a unique manner their best image of each subject. These images, one per category per photographer, will be sent reviewed, commented on, and ranked by a photographic expert to award first and second place honors in each category and an overall first through third plus honorable mentions where deserved. For this competition, our judge will be local professional Douglas Steakley. We're honored to have Doug agree to judge this competition. The winning images will be returned and will be presented on this site through the Gallery pages.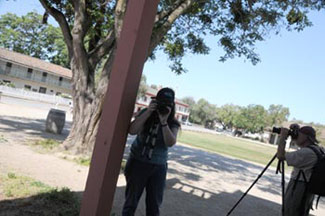 One requirement for the day: Have Fun! Not a problem. You can tell the photographers shared the mood... some more than others. Often, it was hard to tell just who was shooting who...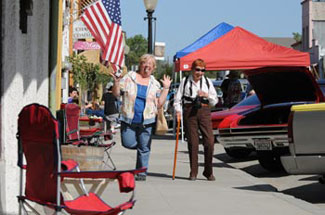 The main drag was lined both sides with modern and classic hot rods and show cars and the mission bells could barely be heard above the rousing Beach Boy-inspired street music.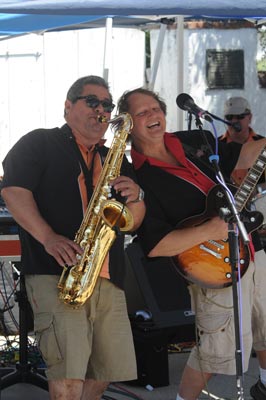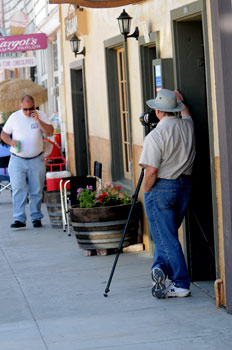 One of the target subjects - Ice cream - is the reason for the apparent stakeout by one member, waiting here to capture the definitive emerging cone.
Dona Esther's Restaurant opened up a blessedly air conditioned banquet room for the group, seen here filing in out of the head for a much needed rest and a hearty lunch. Below, the group awaits their lunch, and later enjoys a song.